This denture allows for more customisation to achieve a look suited to the individual. With our Premium Full Dentures (BPS) you will receive up to three personalised changes at the try-in preview. This preview allows you to make changes until you are satisfied with the general characteristics of your new smile before it is permanently set. Our Premium Full Dentures (BPS) are finished in durable, high impact acrylic processed using the BPS Injection system, which also removes excess free monomer making them a healthier denture option.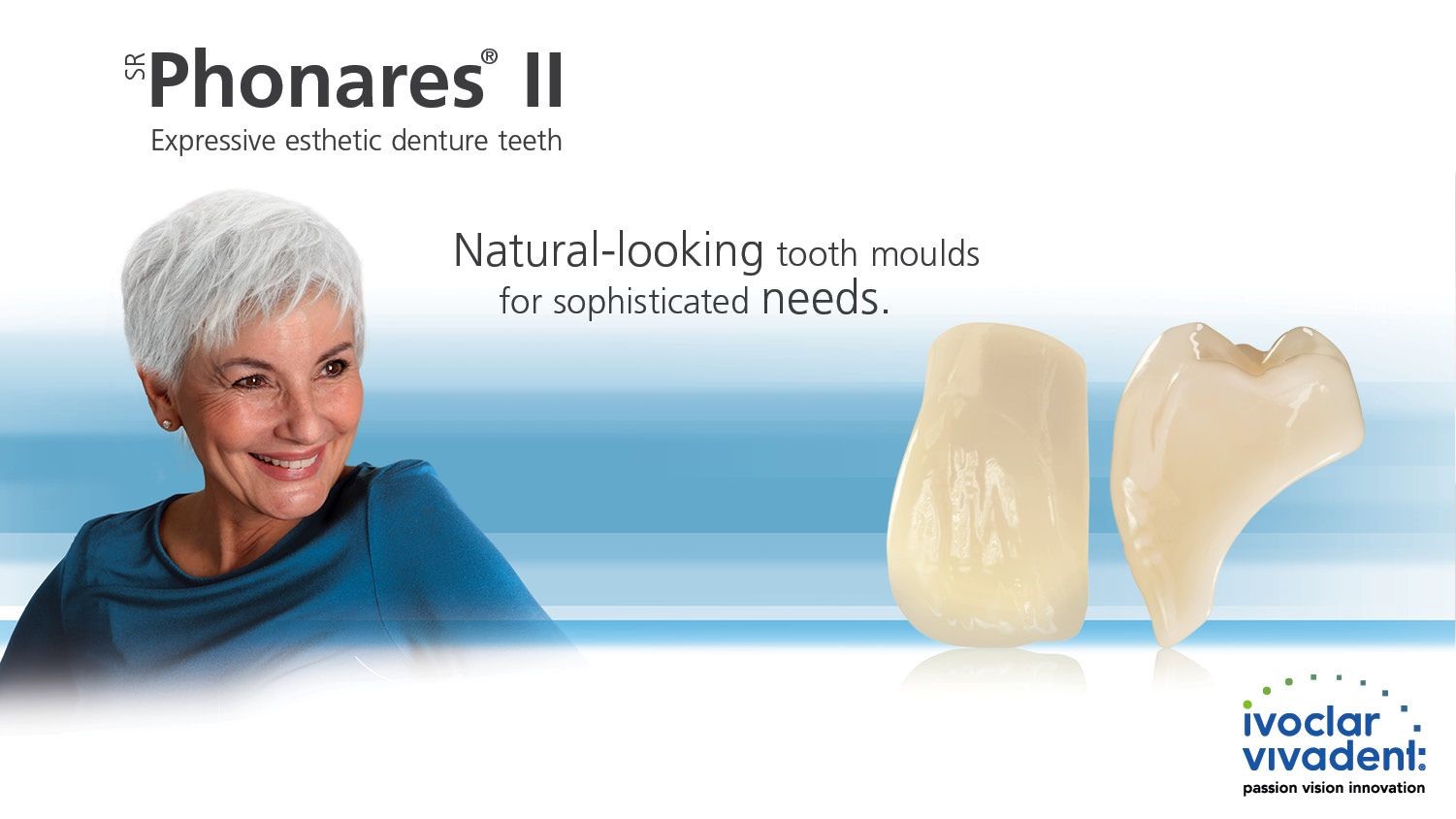 What kind of material are Premium Full Dentures (BPS) made from?
In combination with the Ivobase injection device our Premium Full Dentures (BPS) use high quality SR Phonares II Teeth, made in Italy. These teeth offer a superior natural appearance and unrivaled quality. Premium SR Phonares II Teeth are made from a nano-hybrid composite material that will extend the life of your denture with its exceptional wear resistance.
What is the process for making Premium Full Dentures (BPS)?
Our Premium Full Dentures (BPS) use the Bio-functional Prosthetic System (BPS) which is a process that combines some of the best techniques and materials on the market. This system was created by Swiss based IvoclarVivadent who are internationally renowned for their superior dental equipment and materials.
The BPS system uses the revolutionary Ivobase Injection System, a state-of-the-art device that processes the denture base in a manner that offers unparalleled accuracy of fit and removes excess free chemicals. The dentures are created under continuous pressure and heat which eliminates the chemical shrinkage and gives an extremely dense material.
Our Premium Full Dentures are articulated on a fully-adjustable articulator which simulates the natural movements your jaw makes during mastication (chewing), thus helping to create a better eating experience. The artificial teeth are also set to match the natural curve found in a natural occlusion of teeth, which helps to stabilize and reduce tipping of dentures.
The Premium Full Denture (BPS) is often finished within 5 – 7 visits, depending on the patients' needs.
What is the treatment plan for Premium Full Dentures (BPS)?
The patient process for Premium Full Dentures (BPS) include the following stages:
Consultation (can be combined with step two)
Impressions taken
Final impressions and Face Bow transfer
Bite registrations using an intraoral tracing device
Try-in – teeth set up using Ivoclar teeth (up to three try-in appointments if needed)
Insertion and patient education
Post insertion follow up
Throughout the treatment plan, our Dental Prosthetist will guide you through each step and will ensure you are well informed and comfortable in our care.
What are the benefits of our Premium Full Dentures (BPS)?
Some of the benefits of our Premium Full Dentures (BPS) include:
A more precise fit
Greater comfort
Reduced sore spots and gum irritation
Long lasting
Less staining and bacterial build up
Less denture odour
High impact acrylic – fracture toughness
Low residual monomer content
Injected for accuracy
Superior tooth quality
Enhanced appearance
Increased confidence
Our Premium Full Dentures (BPS) have a lower residual monomer content, making them one of the most bio-friendly acrylic dentures on the market.
If you are looking for a healthy and natural looking denture that functions as close as possible to natural teeth, our top of the range dentures will have you smiling.
Having a denture professional here in Perth with an onsite laboratory ensures you comfort, stability, durability and quality. Should you need any denture adjustments we are just a call away. Visit our Denture Clinic conveniently located in Perth on Canning Highway, Attadale.
What is the cost of a Premium Full Denture (BPS)?
Our Premium Full Dentures (BPS) start from $2750 for either a full top or lower denture.